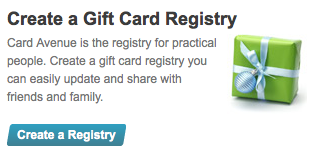 We recently took a fresh look at CardAvenue which changed its business model from a strict secondary marketplace to a gift card registry and secondary marketplace listing aggregator, which lists gift cards for sale at a discount from many of the secondary marketplaces.
As one of the reasons we started this site was to help consumers get the most value out of gift cards, it is worth considering the idea of a gift card registry in the grand scheme of all things gift card.
I think it is a great idea.  Events like weddings in particular are rarely an opportunity to give a personalized gift and gift cards are very common wedding gifts, but a registry would be helpful for other events, like birthdays, graduations, and baby showers; having a registry would help insure that recipients got gift cards they could actually use.  Getting gift cards you can (and intend to) use makes them more like cash and less like money that will eventually be lost.
CardAvenue bills itself as the first and only gift card registry, but strictly speaking this isn't quite the case.  Gift card secondary marketplace Card Hub offers a similar service and alternately call it a registry and a wish list.  Some other gift card sellers also offer a registry, but only for their own cards, making them less useful.
What is to stop other sites from copying this great idea?  Technically, it isn't a difficult feature, but as an aggregator of secondary marketplace listings rather than a direct secondary marketplace, CardAvenue has an advantage over a registry offered as an additional feature by a secondary marketplace; namely, they can offer a much wider selection of listings than the secondary marketplaces can directly.  There aren't too many listing aggregators at the moment (CardNap and GiftCardGranny being the other two we are aware of).
Their service would be more helpful if you could purchase cards directly through CardAvenue (without having to go to PlasticJungle or another site), which would make it easier to have the gift cards sent to (correct) recipients address, much like when you purchase a gift from a registry at Macy's, the shipping address is already filled in.  This would require a high level of cooperation from the secondary marketplaces, so I don't expect it anytime soon.